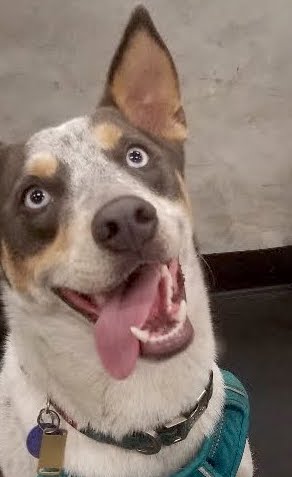 Meet Umka. Umka has been zooming with us for a little over 6 months. He loves to keep busy, since he's a working dog & all. He is a husky/cattle dog mix, so his brain is always busy. He is constantly keeping Sofya on her toes.
Favorite Treat: Salmon, Chicken, Cheese, Bread, & Peanut Butter… not necessarily in that order 😉
Favorite Place: Zoom Room, dog park, hiking, running on the beach.. really anywhere he can interact with other dogs or animals.
Favorite activity at the Zoom Room: Obedience 1 & 2, Agility 1 & 2, Loose leash Walking, Come When Called, Scent 1, Private Lessons with Tabytha. He is looking forward to taking Advanced Scent & Intro. to Flyball
Umka's owner, Sofya, had this to say:
Umka is named after a Russian cartoon character, a polar bear cub. His original name was Greyson when I adopted him from the shelter. When I adopted him, he was terrified of everything, including cats, cars, & stairs… so much so, that I had to carry him up & down the stairs the first few days I had him. Since then, he has traveled to a few states with me, on a road trip to Utah, and even on a plane to Seattle. He loves to keep busy with classes & activities, which also include real sheep herding in Malibu. He also has some roommates, which are cats, where he has picked up cat-like habits, such as chasing his own tail.

His dream is to become a therapy dog & have his own backyard to run around in.