Join us on April 1st!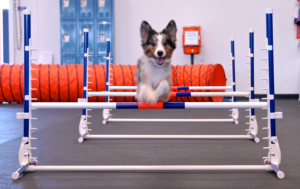 What: $5 Intro to Agility
When: April 1st and April 2nd
45 min – choose from Saturday or Sunday at 9am, 10am, 11am, 12pm, or 1pm.
What: FREE Grand Opening Party!
When: Saturday, April 1st, 2023
4pm-6pm
What: FREE Adoption Event!
When: Sunday, April 2nd, 2023
3:30pm-5:30pm
Where:
Zoom Room Tacoma (click here to learn more about Zoom Room)
3105 South Tyler Street
Tacoma, WA  98409
$5 Agility Classes
To celebrate our Grand Opening, on Saturday and Sunday morning we are offering several Intro to Agility classes for only $5 (single classes are normally $49!) Space is extremely limited, so if you'd like to sign up for an agility class, click below to choose a time and purchase. Two humans per dog are allowed inside our training gym (but there's plenty of room for others to watch from the lobby!). Take advantage of special offers only available during Grand Opening weekend. Click here to purchase and reserve your dog's spot.
Grand Opening Party
Bring your dog, friends, and family and come celebrate the Grand Opening of Zoom Room Tacoma!  The festivities during the party are free for everyone to enjoy, but RSVP to receive a special gift bag with treats. In addition, Zoom Room will donate 10% of all revenue earned over the weekend to one of our participating shelter/rescue partners. Click here to RSVP for the party.
Adoption Event
We have partnered with four local organizations and will be hosting an adoption event on the second day of our Grand Opening weekend. This is an opportunity for you to meet local rescues and shelters to learn more about the wonderful work that they do, and also meet some of our local dogs who are looking for their forever home. In attendance we will have Forgotten Dogs Rescue, Hello Pitty Rescue, People for Animal Care and Kindness (PACK), and the Tacoma Humane Society. Please note that most dogs at the event will not be available for same day adoption, but all applications and inquiries are welcome. Additionally, there will be a giving tree in our lobby with wishlist items from each shelter if you would like to give back – all donations are greatly appreciated! Click here to RSVP for the event.
You'll be able to:
Check out our indoor dog training facility and meet our great staff
Take advantage of special offers available only during Grand Opening weekend
Get a FREE caricature of your dog!
Take home FREE photos of you and your best friend!
Snap hilarious pics of your dog trying our Bobbing for Hot Dogs challenge!
Learn some new TRICKS with our trainers!
Decorate and take home our freshly baked doggy donuts (kids love this one!)
Enjoy delicious food, treats (for humans!) and cold beverages!
A word about Covid-19 safety – While restrictions have eased and everyone is feeling more comfortable, we still want to be cautious and will be following the current CDC guidelines.