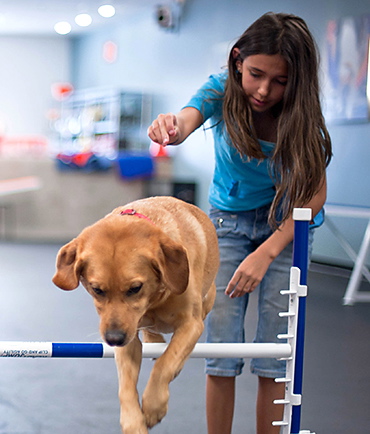 Dog Training Camp for Kids
From obedience games to tricks and obstacle courses, dogs and young handlers will have a blast learning new skills, building confidence and communication! They will be learning basic obedience commands, or building on what they already know, they'll be showing off tricks such as play dead, roll over, crawl, yummy, and more… and running through agility obstacles like the pros! The kids will also have some fun activities while the dogs rest, such as making braided tug toys, no-bake dog treats, or stuffing kongs for the local shelter.
One day during the week, the dogs stay home and kids will work with dogs from the local shelter, while learning about shelter & dog rescue concerns.
Evaluation Required
Come in with the dog and participating child for an evaluation with a trainer. We will verify in the evaluation basic handling capability, as well as obtain a baseline of the dog's knowledge of obedience, and any experience with agility and tricks. Other than basic handling and control, there are no requirements for enrollment.
Vaccination Records
We require current vaccination records (DHPP, rabies & bordetella) for every dog who enters our gym area. You can scan them in and email them to us, have your veterinarian fax them to us, or bring them in in person.
Contact your local Zoom Room to check on schedule and availability.