Super Cooper: Dream Dog Extraordinaire

March's Dog of the Month was almost passed over for looking like a "zombie," but Shih Tzu Cooper had bigger plans for his life…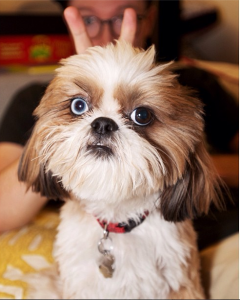 Ira and Liz had wanted a dog for quite a long time, but their living situation never permitted it. Finally, two years ago, they were lucky enough to move into a complex that permitted pets. Liz "ugly cried" when she heard this joyous news.
The couple knew they wanted to adopt a rescue but they had no idea where to start. They simply knew that they wanted a dog that was confident, chill, soft, and small enough to sit on their laps.
After looking at thousands of photos online of dogs all over LA County, Liz found an adorable black Cocker Spaniel at Perfect Pet Rescue. When they went to visit him, they were sad to hear that they were too late… the Cocker had just been adopted.
They told Perfect Pet Rescue the qualities they were looking for, and the volunteer said they had a new rescue named Cooper. He was a little shy around other dogs, but might be a good fit for them. She went to the back of the kennel and out came Cooper.
At the time, Cooper was only seven months old and looked a little worse for the wear. He had been on "death row" at a shelter in Carson before Perfect Pet swooped him up. He had a terrible haircut and was very skinny and small. But despite the rough looks, his multi-colored eyes (one is blue and one is brown) shined through.
While Ira found the eyes endearing, Liz thought his blue eye looked creepy. In fact, Liz turned to Ira and whispered, "We are not getting that dog. He looks like a zombie." Cooper must have understood her because the next thing he did was walk over to Liz, flop at her feet, and offer up his belly for tummy rubs. After that, Liz was putty in Cooper's paws.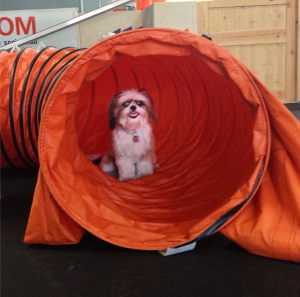 When they first rescued Cooper, he had nightmares. As a Shih Tzu, he has a very short snout, which can sometimes lead to breathing problems. He would get so worked up in his dreams at night that he would start having mini-panic attacks, snorting, having a hard time breathing. He was scared, in a new place, with new humans. When he was having these attacks, Liz and Ira would pinch his nose to help him breath and tell him that he was safe, loved, and didn't need to be afraid anymore.
Cooper no longer has panic attacks or nightmares. Instead, his nights are now filled with snuggles, happy dreams, and lots of blanket hogging.
Cooper hit the jackpot when Liz and Ira made him part of the family. He has become a "bougie" doggie, enjoying fresh cooked steak cut into little bits as big rewards for his Agility 3 class. He also enjoys any toy that is small, has stuffing, and squeaks. He absolutely loves meeting new people, but most of all he loves zooming around the agility courses!
Congratulations, Liz, Ira, and Cooper! You have become such a huge part of the Zoom Room family, we couldn't imagine it without you.
Check out Cooper in his own Youtube video and check out his mom, Liz, on on Fox's TV show, "Rake."