Fellini Named as First Dog of the Month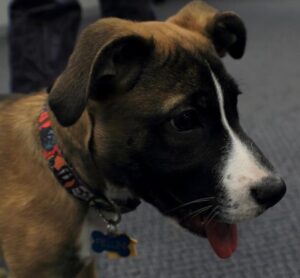 Fellini is a five-month-old Boxer/Shepherd mix who has been coming to Zoom Room Sherman Oaks since the day we opened.
We have watched her grow by leaps and bounds and can't get enough of watching her take to the Agility equipment like a natural.
Fellini's dad, Greg, says he and his girlfriend found Fellini at a rescue in Chatsworth. When they met her, Fellini had Parvo and Coccidia. Despite her desperate situation, they fell in love and took her home.
In order to pay for Fellini's medical care, Greg and his girlfriend agreed to forgo all Christmas presents to save her. Fortunately for Fellini, they found an amazing veterinarian who was able to make her the completely healthy bundle of joy she is today.
The bouncy puppy now loves Real Meat treats and running away from her parents and trying to get them to play catch. Her other favorite activity is stealing her parents' socks and underwear.
Fellini also loves playing with her new best friend, Finn, another puppy she met at the Zoom Room.
We are pleased to name you Zoom Room Sherman Oaks's first ever Dog of the Month. Congratulations! Enjoy your four-pack of Private Gyms, puppy!