Foster Dog ISO Permanent Home

We can't say enough about Precious, December's Dog of the Month, at Zoom Room Sherman Oaks.  There are some dogs who are truly special — Precious is without a doubt one of them.  Over two years ago, Evidence of Love Animal Care rescued Precious from unthinkable circumstances.  Precious was part of a large animal cruelty case involving severe neglect.  At the time she was first brought into the shelter, she was emaciated and weighed less than 40 pounds.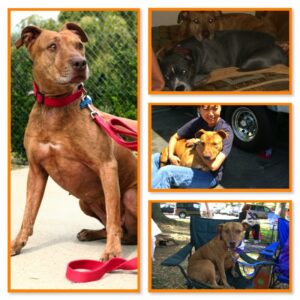 Precious was taken into a loving home by her foster mom, Stella, where she has spent the last two years healing emotionally and physically.
In effort to improve Precious' chance of adoption, Stella brought her to Zoom Room.  The staff instantly fell in love with Precious and commends Stella for her efforts to find Precious a loving home.
For the past month, the Sherman Oaks shop has been a second home for these two, with Stella and Precious coming in for over 20 classes.
When trainer Dave first met Precious during an evaluation, she refused to get near Dave and hid behind her foster mom.  Dave placed her in Basic Manners and she began to flourish.  Now, Precious loves Dave and has advanced to the highest levels of Obedience.  Foster mom Stella's next step is Therapy Dog class, which will give Precious a chance to help others the way has been helped by Stella.
Stella believes that Precious would make a great companion or service dog to someone special, and we at Zoom Room couldn't agree more.  Precious is house trained, crate trained, vetted, spayed, up to date on all of her vaccinations, and gets along with all dogs, big and small.  While she is shy when meeting a new person, she is quick to make friends once she has gotten to know them.  As Stella explains, "Precious is amazing with all dogs and loves her human family and friends.  Despite the hardships she has endured in the past, she overcame those obstacles.  I have been fostering Precious for about two years now. She's a great dog."
At six years old, Precious has lived many lifetimes.  We all feel that her next chapter should be the best yet.  If you are interested in knowing more about Precious you can watch a video of her at http://youtu.be/v8KjVLzaSTE and be sure to check out her PetFinder profile at http://www.petfinder.com/petdetail/21219489.
Although Stella would love to keep Precious permanently, she is unable to and hopes to place Precious with a loving family soon.
Congratulations, Precious and Stella!  We hope that by next year you'll be celebrating the holidays in your forever home.