From Scaredy Dog to Agility God

Three-year old Kirby has had such a major transformation in such a short time that we just had to celebrate this little guy's growth.
Kirby's mom, Kristy, writes: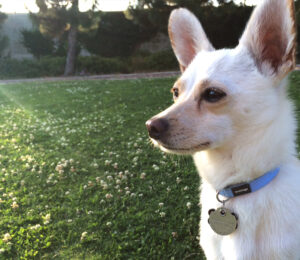 "I am a freak of nature when it comes to loving animals, especially dogs, so while I was living in an apartment that didn't allow animals I decided to start volunteering for Best Friends/NKLA. I wasn't sure what kind of dog I wanted, but I knew I wanted to rescue an adult or senior dog and thought spending time with these pups would help mold my decision, as well as let me help them get homes.
Even before I moved into a place that allowed dogs, I was hunting on petfinder.com daily and checking out different rescue groups. After I finally moved, I decided to check out the Best Friends Animal Society in Mission Hills (since I strongly support what they do and I knew they had a ton of dogs). After several meetings, a bunch of walking and some pondering I finally picked Kirby – the one that wasn't barking."
Once she got him home, she had to pick a name.  After several days of calling him, "Hey!" she settled on Herbie the Love Bug. Then she thought that it would be easier for the pup to understand the "k" sound, and changed it to Kirby the Love Bug, or just Kirby, or the Kirbster. Now that he had a name, Kristy had to help him overcome some issues.
The little Chihuahua mix was scared of EVERYTHING. Kristy says,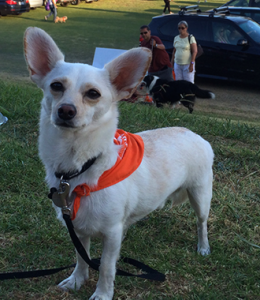 "When I first took him home, he was scared of every gate and door we walked through, freaked out when certain objects came too close (like plastic bags or cardboard boxes), and froze in fear at pretty much everything else (especially small or crowded spaces). He didn't eat for the first several days and for weeks he was scared of every food bowl I used, but I was determined to get him past this fear so he could have a joyous life. From day one, I made sure to take him everywhere I possibly could, got him a booster seat so he could look out the window, and had him smell an assortment of things daily.
I've never had a dog like Kirby before, so early on I started taking him to daycare for a few hours several times a week to socialize (which was ultimately not a good choice). Kirby doesn't say much, but after multiple gastrointestinal upsets I needed to find other routes to boost his self-esteem, which eventually led me to Agility classes at the Zoom Room. Even though it took about 16 Agility 1 classes for him to make friends with "The Tunnel," it was all worth it. The difference between Kirbs back then and now is amazing, (just ask Meghan or Stephanie as he prances about during Obedience 3 or Agility 3 classes)!
Outside of class, he now holds his head up high when we go for drives, he'll go up to strangers and do tricks to beg for treats, he doesn't care if runners are coming up behind him, and every morning he wakes up with a smile."
Kristy was curious about Kirby's breed so she did the Wisdom Panel DNA test. It came back inconclusive but did show that he was part Anatolian Shepherd. Kristy sent in a picture and the Wisdom team quickly changed their results.
Kirby isn't a fan of toys, but he loves Kristy's green doorstop and will do just about anything for chicken hearts. He also loves running, and doing tricks and Agility.
We are so impressed by all the hard work Kristy has put in and the vast improvements Kirby has made in their few short months together. We can't wait to continue watching him blossom.
Congratulations, Kirby. We know you will benefit a lot from your free Private Gyms!