Super-Zoomer Snags Top Honors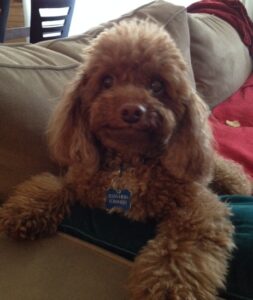 Max, a.k.a. "Maxinator," and his momma, Ellen, are beyond thrilled to be the Dog (and owner) of the Month!  If dogs reflect their owner's personality, it's no wonder that Max is perhaps the kindest and most loving dog.  As Ellen describes, "It is a gift to have him in my life."
Max, a small red Miniature Poodle, came into Ellen's life nearly a decade ago. Her granddaughter, Hannah, accompanied Ellen when they picked him out at just six weeks old.  Hannah wanted to name the little red fluff-ball Mac as an homage to the Clifford series, but Ellen misunderstood her and thought she said Max.  But as Ellen and Shakespeare put it, "What's in a name?  That which we call a rose by any other name would smell as sweet."
While Max is 8 1/2 years old, he still acts like a toddler.  He has a vast collection of toys and loves them all.  He is exceptionally fussy with about what he eats and his current treats of choice are Real Meat Venison and Chicken treats.
Max is smart, very alert, and well behaved, but that doesn't stop him from getting the occasional case of the zoomies during his Agility classes.  Instead of jumping, climbing, and weaving, Max sometimes takes it upon himself to zip around the ring like a fluffy Tasmanian Devil. We can't blame him for his excitement, though.  When Ellen mentions that it's time to see his friends in Agility class, Max always runs and sits by the door, ready to go.
Come get those zoomies out during your free private gyms! Congratulations to Max and Ellen!