Corgi? Terrier? Shepherd? Love Bug!

Being awarded November's Dog of the Month is a far cry from where Leo began.
Three years ago, Leo's mother, a wandering stray, gave birth to him and his seven siblings in a barn east of San Diego.  Four of the pups didn't make it.  The other four were resuscitated by the groundskeepers.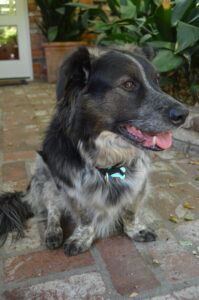 When they were eight weeks old, the mother and surviving four puppies were shelter-bound, but Leo was plucked from the bunch by a woman visiting the barn from Los Angeles.
She brought Leo up to the Equestrian Center in Burbank hoping to find him a home.  And there, in the middle of the parking lot, Cathy and her daughter fell in love with Leo.
True to his mysterious bloodlines, which may or may not include Corgi, Terrier, Cattle Dog, Prairie Dog, and/or Australian Shepard (who knows), Leo loves having a job.  If he's not given one, he will come up with one on his own. For example, Leo appointed himself newspaper delivery boy and learned to to bring the paper in every morning.
Less helpful jobs Leo has created for himself include, but are not limited to, eating the curtains, the couch and the bedspread. Fortunately for his family, Leo has grown out of eating home furnishings. Unfortunately for his family, Leo still enjoys removing the drains from the showers every day and ripping chunks of yard out with his teeth.
Leo's no-nonsense, can-do attitude has propelled him through the levels of agility at Zoom Room Sherman Oaks.  Cathy and Leo can be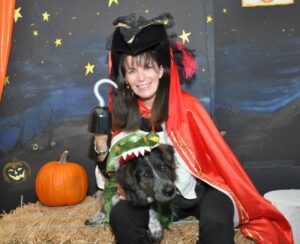 spotted practicing the weave poles during their regularly scheduled Private Gym or scaling the A-frame during Agility 3.
When not zooming, Leo can be found chasing tennis balls and twirling around from a rope hanging from a tree in his family's yard.
Leo also had a creative side.  For Halloween, he dressed up as the crocodile from Peter Pan.  Mom, Cathy… Captain Hook!
Congratulations, Leo and Cathy! We at Zoom Room reserve a soft spot in our heart for the two of you.