No Butterflies When Tovi Competes
Tovi's mom, Roberta, proudly has this to say about her two-year-old Papillon:
Tovi Shlomo Scharlin was born on March 14, 2012 to Papillon parents Caprica's Kara Thrace ("Kara") and Nanrich's Peter O'Doul ("Peter"), who is both an American and Canadian Papillon Champion.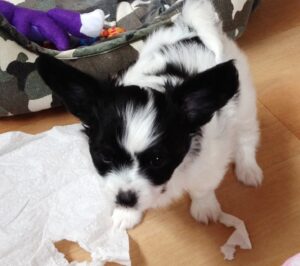 Both parents were bred by "breeders of distinction," according to the AKC Papillon Club of America, which is why I chose to buy from Susan Bleckley, owner of Kara.  The third of four pups, Tovi, who was first named "Sammy," was the largest pup and already had the biggest ears!  
On June 7, 2012, Susan told me to come and chose my new furbaby between "Sammy" and his little brother, Charlie.  Charlie was adorable and sweet but it was "Sammy" who, when I called "Come here, Tovi! " raced to me, jumped into my lap and fell asleep.  That was that!  By the way, Tovi means "Goodness" in Hebrew.  His middle name, "Shlomo," was given to him by my oldest grandnephew whose middle name is Shlomo and he absolutely insisted!  Yes, Tovi Shlomo is a good Jewish boy!!

Tovi was not purchased to be a show dog but it soon became clear that he was show dog material.  At first, I was very hesitant to show him, but I wanted Susan to see how her breeding program was doing and agreed.  About 14 months and 44 ribbons later, on November 15, 2013, Tovi Shlomo, known by his AKC registered name, Caprica's He's All Goodness, was officially recognized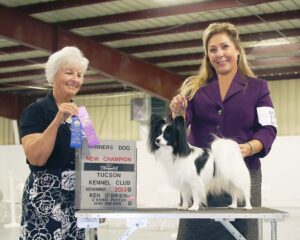 as AKC Champion Papillon.
He is now happily retired and neutered and is undergoing classes at the Zoom Room in the hopes that he will someday be my service dog!  We are also trying out the world of rally and agility.  Tovi's favorite so far is the A-frame, which he takes at top speed.

Tovi enjoys playing with his neighborhood Pap pals, Missy and Nico.  He especially loves balls of all kinds, soft, squeaky toys, tug-of-war, long walks and Himalayan Yak Chews.  
His favorite food is whatever his Mommy is eating (but he only gets a little!), but he especially likes chicken, fish and steak. Tovi is a proud member of the PupScouts Hollywood Troop 12, which is a philanthropic organization helping other dogs.
He loves to give "parties with a purpose," where his guests are asked to donate to a specific dog saving organization.  These parties have ALWAYS been at the Zoom Room.  
Earlier this year, Tovi's pals donated approximately $900 in cash and product to the Linda Blair WorldHeart Foundation, which rescues pit bulls and finds them new homes.  We are both grateful for having such kind friends!
An AKC champ, a philanthropist, soon to be service dog, and a mensch.  If anyone deserves some free Private Gyms, it's you, Tovi.  Mazel Tov!