Rescue Dog Rescues His Best Friend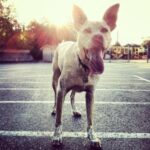 Enzo is a two-and-a-half year old Australian Cattle Dog/Labrador mix.  He was rescued by his dad, Josh, from a rescue.  Enzo was nominated for Zoom Room Hollywood's Hero Dog Awards last year.  What makes Enzo a hero?  He saved his dad's life.
Josh has numerous allergies, among them a severe nut allergy. Josh was out one night and inadvertently ate something with nuts in it.  As soon as he realized what had happened, he had to make a quick decision:  rush home to his Epipen or drive straight to the hospital.  Josh chose to try to make it home.
Josh stumbled up his walk and barely made it through the front door. Once inside, he collapsed.  The only one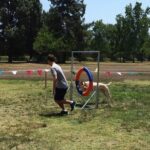 home:  Enzo.  Josh was a mere eight feet from his Epipen, but could not get to it.  As he passed in and out of consciousness, he cursed himself for not teaching Enzo to retrieve the Epipen.
Enzo ran around Josh in circles, barking.  Somehow, Josh managed to grab a phone and hit redial.  He reached his roommate.  His roommate couldn't hear Josh.  All he heard was Enzo.  He knew from the tone of Enzo's bark that something was very wrong.  Because of Enzo, Josh's roommate rushed home and got Josh the medical treatment he so desperately needed.
Josh credits Enzo and his roommate with saving his life.  The bond between man and dog has never been stronger.
Enzo loves Agility, especially the weave poles.  He is amazingly fast and can leap tall buildings (well, high jumps anyway).  Josh wants to teach Enzo to become a service dog so he can be by his side protecting him everywhere he goes.  With his innate abilities, Enzo should have no problem with the training.
Congratulations, Enzo.  We are so proud of you.  It is an honor to have a hero in our midst. Make good use of your free Private Gym pack, you deserve them.