Lively Therapy Dog Takes Top Honors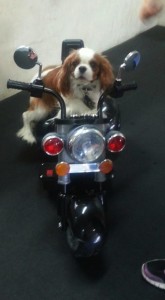 Meet Jonty, a three-year-old Cavalier King Charles Spaniel and October's Dog of the Month! This little bundle of love lives up to his name at Zoom Room Sherman Oaks, exuding a lively, cheerful, and self-confident aura every time he jaunts through the door. It is this quality that has zoomed him through classes. Jonty worked his way up through Therapy Dog at the Hollywood location and is now mastering Agility at Sherman Oaks!
Jonty's mom picked him from a Cavalier show dog breeder named Sandi Harrison after extensive research.  Jan wanted to be sure to choose the right dog for her lifestyle and she could not have picked a better companion. 
Little Jonty's affection makes him everyone's best friend. When he was four months old and finally got out of "parvo prison," his first doggy friend was a 100 lb Rottweiler named Baron. They became instant pals.
When he's not hanging out with his friends or showing off in Agility Class, Jonty enjoys showing "special affection" to his stuffed hippopotamus, a.k.a. his "girlfriend." He also loves munching on duck jerky treats, affectionately referred to as "quackers."   
Jonty loves to repeatedly introduce himself to four-legged friends as well as the two-legged ones, so make sure you say "hi," the next time you see him.
Congratulations, Jonty!  Come enjoy some private gyms on us!