Huggable Izzie is Full of Love

If Izzie looks like a tiny Labradoodle, that's because she is. At least that's what they were told, and based on her looks and personality, it's easy to believe.
Izzie joined mom Veronica's family two years ago at the tender age of 8 weeks old. Veronica and Jonah had two dogs, Daisy and Treasure. When Treasure passed away, the rest of the family felt the loss deeply. After several months of mourning, they decided it was time to find Daisy a new friend.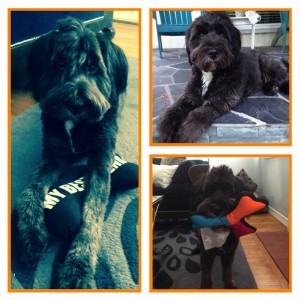 In their search, the came across a puppy called Lizzie at United Hope for Animals. The name was the first problem, as Veronica's mother-in-law is named Elizabeth and everyone calls her Lizzie. But then the more serious issue came up. Daisy didn't like her. Lizzie was very high strung, which did not please Daisy. It was not going to be a match. Then, the rescue mentioned Lizzie's sister, Emma.
When Emma came to the house, she was mellow — more to Daisy's liking. Daisy accepted her with open paws and the match was made. In honor of Emma's crazy sister and Veronica's mother-in-law, Emma became Izzie and the rest is history.
Izzie's favorite treats are beef sticks. Her favorite activities include playing with her black squeaky raccoon and her best friend, Coco Chanel.
What makes Izzie special? Veronica says, "When Treasure passed we didn't think we'd find a dog to fill that void. Izzie has definitely done that.  We never met a dog that shows love the way Izzie does. She will literally wrap her arms around our necks and hold us! We're very happy with our little love bug and all that she's learning from her family at the Zoom Room!"
Good job, Izzie! Give us some hugs the next time you come to the Zoom Room!