A Change from Chains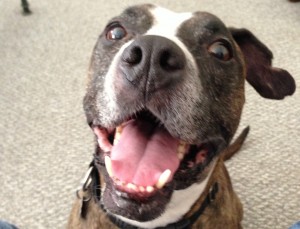 Meet Lee, a lovable goofball, and the first Dog of the Month of 2014!
Lee was adopted by Larry and Lynne in July of 2013. The couple, long time fans of Pit Bulls, had lost their most recent Pit to cancer.
Larry was perusing Pet Finder when he saw 5-year-old Lee, rescued by the Fuzzy Pet Foundation. His distinctive blaze called to Larry, and he instantly set up a meeting.
When representatives from Fuzzy Pet brought Lee over to meet Larry and Lynne, the two immediately saw his intelligence and playful attitude. They knew it was the perfect match.
A match made in heaven was exactly what Lee deserved.
As Larry describes, "According to The Fuzzy Pet Foundation, [Lee] had been chained in a garage for the first three years of his life. His front lower teeth are worn down from bitting on the chain. He was boarded by The Fuzzy Pet Foundation for two years before we adopted him, and he was the poster child for Fuzzy Pet on their website. Lee now has a forever home, two parents who love him, and a big yard to chase squirrels."
Larry and Lynne have been putting in endless amounts of time and effort to help Lee overcome his rough beginnings, and for that dedication we commend them.
Congratulations, Lee! Enjoy your Private Gyms!