Rockin' Roxy Reigns in December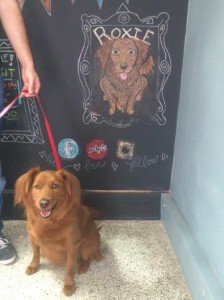 This four-year-old Golden Retriever mix was just six months old when her parents rescued her from the Lange Foundation.
Her mom, Larissa, says, "The first day we got her, we had not dog-proofed the house because our older dog (a 10-year-old Pomeranian) didn't really get into any trouble. Later that day, we ran a quick errand for 20 minutes. When we returned home, we discovered that Roxy had opened the latch on the Tupperware tub with the dog food and eaten at least half her weight in kibble. She is one smart (and hungry) lady!"
Since then, the family has worked out the kinks and Roxy has matured into a well behaved lady who loves her squeaky owl and Agility at the Zoom Room.
Congratulations, Roxy!  Enjoy your four-pack of Private Gyms!