Buzz Lightyear to the Rescue!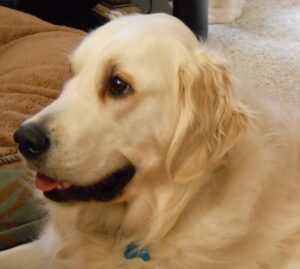 Agility star, certified therapy dog, cheese enthusiast… all great ways to describe Buzz, February's Dog of the Month.
Buzz is a two-and-a-half-year-old white English Sable Golden Retriever owned by Ken and his daughter Stephanie.
Approximately two years ago, Ken and Stephanie were looking for a companion for Ken when they saw an ad from a breeder in Simi Valley.
Out of a litter of 10, Buzz was the last one left. He was perfect in every way, yet the breeder offered him to Ken and Stephanie for half the cost of the rest of the puppies. They felt as though they found a piece of Waterford Crystal in a Big Lots store.
At eight weeks old, Buzz slept next to Stephanie's bed for the first week without crying once. When he realized how comfortable the bed was compared to the floor, he moved on up and has slept there ever since, all but taking over the bed entirely.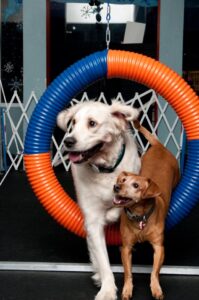 His love for that bed resulted in his only slip-up from being a good boy. Buzz is that rare Golden who has never caused problems or damage while growing up, never chewing on furniture, never eating socks, never digging or even barking. However, when Buzz was about a year old, Stephanie left him unattended with the bed stripped of sheets. Buzz got on the mattress pad and discovered a small hole in it. Within a few minutes, every ounce of what was once INSIDE the mattress pad was on the outside, covering Stephanie's room, transforming it into a virtual Polar Vortex.
When Buzz isn't shredding mattress pads, he can be found eradicating squeakers from toys, playing with canine siblings or romping around the Zoom Room. Buzz loves being the center of attention, and his motto in life is, "pet me, please." If pets can't be given, Buzz will happily take cheese in its place, be it American, Cheddar, Jack, Velveeta, Cheese Puffs, Cheez-Its, or any other available cheese product!
Congratulations Buzz, Ken and Stephanie! Come enjoy some cheese during your free private gyms!