Puppy Says "Oui" to Agility
Meet Gus.  At only eight months old, he has already shown a flair for Agility and a taste for cigarette butts and dog poop.  Because of this, little Gus wears a face shield when he's out.  He has been dubbed the "beekeeper" around the neighborhood.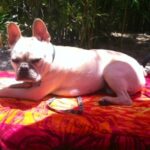 Mom Melissa found Gus at a breeder in Chino just a few short months ago.  Since then, they launched straight into Agility to burn his energy, work his mind, and hone his skills.
Gus is a social butterfly, who loves everyone he meets, canine and human. He enjoys watching tennis and anything on the Food Network. Aside from eating things he shouldn't, his favorite actual treats are cheese sticks.  Gus also loves hiking, playing with friends, and cuddling, but only after 8pm.
Although Gus is pretty easy going, he is not a fan of water.  He draws the line at rain and has no interest in getting wet.  Makes bath time pretty fun, we are sure.
When Melissa had the stomach flu, Gus stayed by her side the entire time. He provided comfort and snuggles until his mom felt better.
Gus was one of the Zoom Room stars at Pawsapalooza 2013.  To see pictures of him performing at the event, check out our Facebook page.
Congratulations, Gus.  You are a Zoom Room superstar.  We know you will make good use of your prize:  a four-pack of Private Gym!