Puppy Zooms to Top of the Pack

This Pembroke Welsh Corgi managed to steal the hearts of his parents and everyone here at the Zoom Room in only three short months.  This little five month old has proven he has a big heart and a flair for the dramatic (check out his Halloween pictures) despite his youth and short legs.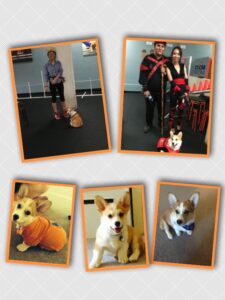 His parents selected Cooper from Poso Creek Farms in Bakersfield when Cooper was two months old.  Dad Eric writes, "There are many highlights that we love about Cooper. He's very goofy and keeps us entertained while he fraps around the house randomly. I remember the first week we took him home, we had a long line of dog toys for him, everything from balls to rope and other luxury dog toys.
"One day I was casually drinking a water bottle and dropped it on the floor by accident, that's when our dog Cooper started an hour long play session with the bottle. It's amazing what a dog can teach you and on that day he taught us that you don't need to have fancy things in order to have fun, anything can be a toy. What matters is who is around to play with you. We have since begun a water bottle collection. Everything from Gatorade, vitamin water to coffee creamer bottles. This is one interesting and fun loving pup. Even though Cooper can't speak I know if he could he would want to give a big thank you to the amazing one-of-a-kind staff at Sherman Oaks for making his life even more fun. A very special thanks to Meghan and Kara, whom we see most frequently in our training sessions and a big shout out to Ryan, the man behind the scenes who is always a pleasure to chill and just chat with."
When Cooper isn't spending hours playing with plastic bottles, he turns to his second favorite toy… the squeaky crocodile.  He also entertains himself by stealing his mom's hair band and having them chase him.  Cooper's favorite meal is steak and scrambled eggs (and who wouldn't like that!?)
Congratulations, Cooper. We can't wait to see what your future brings!