Brandy Brings the Energy

Brandy is an 11-year-old Australian Shepherd mix who proves that you're only as old as you feel and you CAN teach an old dog new tricks.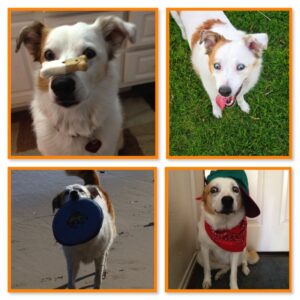 About 10 years ago, Brandy's mom, Kendra, lost her best friend Kodi, as a young pup.  After six months of grieving, Kendra decided she needed a new four legged friend.
Kendra and her family searched high and low for the perfect match. Kendra knew what she wanted:  "a female dog that was an Australian Shepherd mix, about 1 year old, about 35 pounds and had the ability to be calm and also had a lot of energy."
Kendra and her mom took a trip to the Helen Woodward Animal Center in San Diego, a trip that changed Kendra's life.
There, Kendra's mom noticed a dog who seemed to fit the bill.  The sign on her cage read, "Has lots of energy but also has the ability to be calm." She was a one-year-old Aussie mix who had just arrived from Best Friends Animal Society in Utah. Kendra says it was love at first sight.  The search was over and Brandy had a forever home.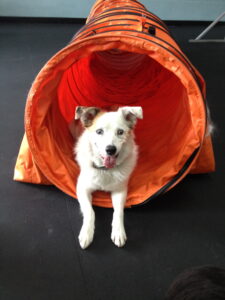 Now, a decade later, Brandy (aka Squirt for her tiny stature) and her mom enjoy life together going for runs, doing Agility, searching for gophers in the park, playing at the beach, and playing frisbee. Her favorite toy is a red ball that looks like the moon and dispenses her meals. She loves bully sticks and elk tendons.
Brandy holds a special place in Kendra's heart. Kendra says that Brandy has always been there for her and helped her through her most difficult time. Kendra credits Brandy with saving her life just by being her friend.
Congratulations, Brandy.  We hope you enjoy your Private Gyms!