Cattle Dog Mix is Great Travel Buddy

January's Dog of the Month is an Australian Cattle Dog/Blue Heeler mix who came into her family's life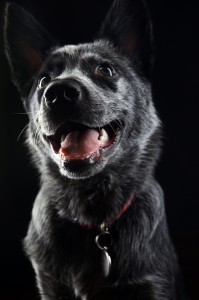 at 8 weeks old.  This 10-month-old little girl was made for traveling with her parents, and she carries the name Atlas with pride.
Why did they choose this particular mix? Her mom, Sara, says, "I saw Road Warrior when I was 12 and wanted Mad Max's dog ever since. I specifically wanted this breed and went about searching for the right one."
Atlas has already experienced a lot of adventure in her young life and has seen more of America than a lot of people. So far, she has been to Arizona, New Mexico, Texas, Louisiana, Mississippi, Alabama, and Florida. And the number of states is growing! Sara says that Atlas's favorite states so far are California and Florida.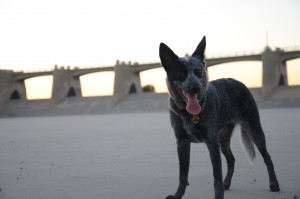 When she isn't traveling, Atlas loves snacking on cheese sticks and chicken hot dogs. Play time involves any squeaky toy she can destroy and make a mess with.
Sara says what makes Atlas is special isn't only her unusual color/coat and the general look she has. "Sometimes she's too smart for her own good and acts like a 15-year-old rebellious teen, especially during agility class, but I still love her."
And we have enjoyed watching you grow and mature, Atlas. Enjoy your Private Gym time. You earned it.