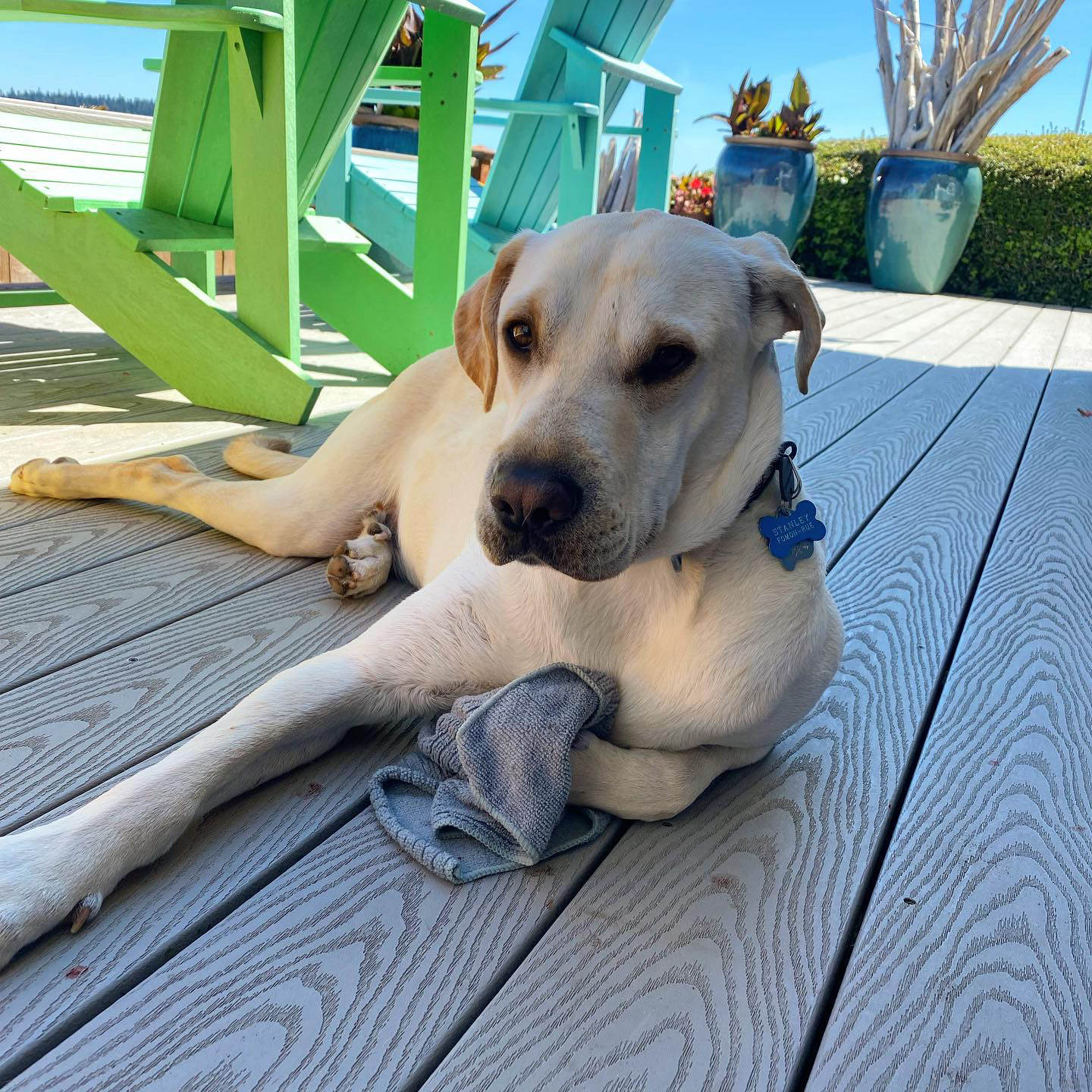 Hey, Zoom Roomers! My name is Stanley Blue and I'm a one-year-old international mutt of mystery, though mom and dad tell me I'm a lot of Pittie, Lab, Golden, Rottweiler and Shiba Inu. I was rescued from a high-kill shelter in Texas by friends at Great Pyrenees and Paws Rescue after they saw I have double-dew claws and thought I was a Pyrenees I couldn't be more excited to be in the PNW because there are so many human and dog friends I get to say hi to and play with! Not to mention beaches and trails!
I LOVE hiking with mom and dad, going on adventures around Washington … and don't even get me started on running. I am a friendly, happy dude and want to play with all the people and dogs. I love when my parents call me over when I'm tired at the end of a long day — nothing makes me happier than leaping onto the couch and snuggling with my mom and dad. Or anyone! I just love snuggles.
When I first joined my new family, I was nervous and reactive about things I wasn't sure about — cars, bicycles, strange people, and loud noises. After working to build up my confidence with Halley, I'm loving life, goofing off all the time, and eager to go on walks every day. Plus, I know how to sit, stay, shake, touch, and more! Halley tells me I still get a little too excited, so we're working on calming down and relaxing. I love going to Zoom Room and can't wait to try out my leash skills in Obedience 2!
Stan's owner, Josh and Kirsten, had this to say:
Stan is such a sweet, snuggly boy and we are so happy he is home. From Day One, he has wriggled his way into our hearts and we couldn't imagine life without him! You can follow his adventures at @stanleybluezurita