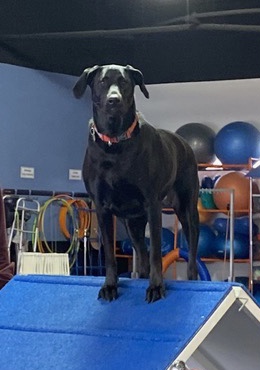 Peppy, puppy Pepper. I was born a Puyallup pup, look like my mom, and have my Dad's herding sense. I'm an (squirrel!) affectionately bossy girl. I don't take nonsense from strangers, but know every neighbor who will share a treat and whom I reward with hearty, waggily thanks. I work hard everyday: shredding paper, herding family children in the playground, racing around with Colby, a yellow-y, poodle-y version of me, and telling-off these Haller Lake squirrels (oh I wish I could climb trees), jump through hoops, run through tunnels, up – down ramps, over hurdles, and try to twist my bulk around posts in a weave until I'm so
exhausted …
can only lie still and …
watch the Juncoes and chickadee-dee-dees at the feeder wondering what it is like to fly. I could use that talent to play with those squirrels. In the evening it's time to snuggle with my food servants and, on occasion, sing a lullaby duet with our resident barred owl- me a resonant bass, they a flutey alto.
Golden slumber fill my dreams with … squirrels… .
Pepper's owner, Duane, had this to say:
Pepper loves agility!