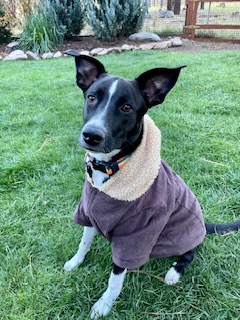 Jockamo is such a sweet and intelligent boy, and he's never failed to impress us with his agility prowess since he started coming to classes at Zoom Room! He makes us laugh– whenever he completes a course, he always makes sure to let us know how he feels about it with a sassy little grumble. This lovable jokester has certainly melted all of our hearts, and we're certain he will yours as well!
Favorite Toy: Chipmunk!
Favorite Treat: The night cookie he gets before bed. He starts asking to go to sleep way before bedtime just to get his cookie. He knows the sounds of the Xbox and tv and as soon as they are about to power down, he launches for the kitchen and the cookie jar.
Favorite New Orleans because his yard there has possums for him to chase and a fence right up against the sidewalk where he can say hi to people. And his best dog friend Penny lives next door!: Place
Favorite activity at the Zoom Room: A-frame. He was scared the first time but now he loves being up that high and seeing over the wall.
Jockamo's owner, Gary, had this to say:
Jockamo is a cattle dog mix rescued from a shelter on the Navajo nation by Puppy Luv animal rescue who brought him down to Phoenix for us to adopt. Jockamo has looked up to his older sister, Wynter (a mini -Aussie mix), since he first arrived home. We think she taught him how to be so good. He is a great smart 19 month old pup who has been the best boy. He has never chewed up anything that is not his and he is willing to please everyone. He wants to run and play all day especially if that play is learning new stuff like Zoom Room agility.