Join us on Saturday, March 26 from 9am – 6pm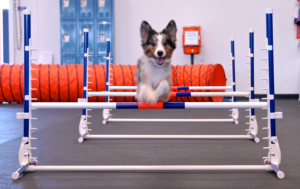 What: $5 Intro to Agility Classes
When: Saturday and Sunday, March 26-27
45 min – choose from Saturday at 9am, 10am, 11am, 12pm, or 1pm or Sunday at 9am, 10am or 11am
What: FREE Grand Opening Parties
When: Saturday, March 26
30 min – choose from 4pm, 4:30pm, 5pm, and 5:30pm
Where:
Zoom Room Sandy (click to learn more about Zoom Room)
10665 State St.
Sandy, UT 84070
(106th South and State St. across the parking lot from Taco Bell)
$5 Agility Classes
Throughout the morning on Saturday, and again on Sunday, we are offering a few Intro to Agility classes for only $5. Space is extremely limited, so if you'd like to sign up for an agility class, click below to choose a time and purchase. Two humans per dog are allowed inside our training gym (but there's plenty of room for others to watch from the lobby!). Take advantage of special offers only available during the Grand Opening weekend. Click here to snap up a spot!
Grand Opening Parties
Bring your dog and come celebrate the Grand Opening of our newest Zoom Room. Be sure to RSVP! The festivities are completely free, but for each person/dog who attends, Zoom Room will donate $10 to Outreach Pawsiblitilities in Herriman, which provides service dogs to veterans and families in need. Reservations are required and space is limited. Click here to reserve your dog's spot.
You'll be able to:
Check out our indoor dog training facility and meet our great staff
Take advantage of special offers available only during the Grand Opening weekend
Snap hilarious pics of your dog trying our Bobbing for Hot Dogs Challenge
Enjoy freshly-spun cotton candy by Spun! by Steph
See how Kimberly, a former SeaWorld caricature artist, sees you and your dog
Decorate and take home our freshly baked doggy donuts (kids love this one!)
Space is limited, so reserve your spot now!