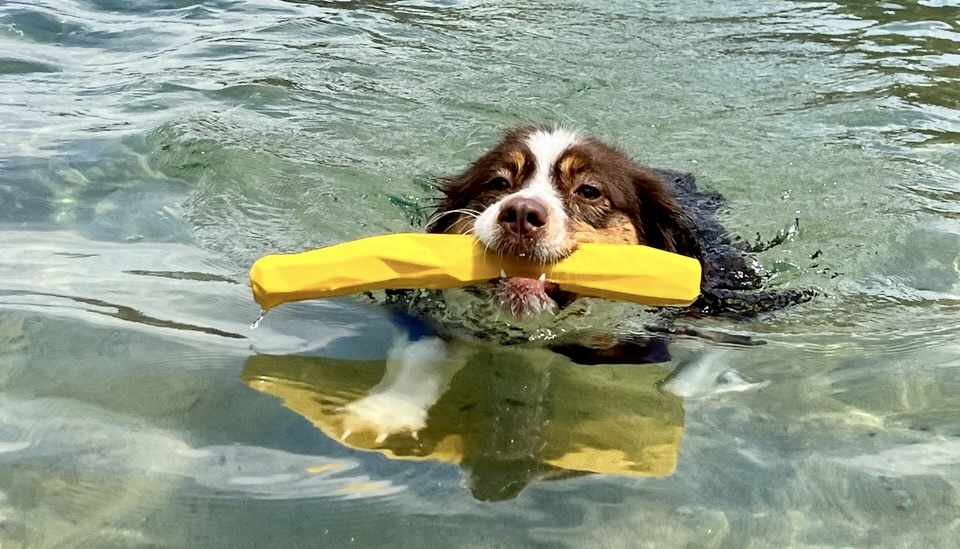 shaadi Does Obedience, agility and Pup-Lates and just loves to show off her abilities. She can really ham it up when she's proud of her accomplishments.. Every thing she tries! She's a great all-around sport when it comes to meeting new challenges.
Favorite Toy: Playology Dual Layer Dog Toy
Favorite Treat: NO Hide Cheek Chips
Favorite People: Everyone! She just hams everyone she sees. She is everyone's Favorite in the entire family. She loves her sisters especially and they play so beautifully together.
Favorite activity at the Zoom Room: Agility
Shaadi's owner, Kouros, had this to say:
She is also the most obedient dog we have. The absolute sweetest dog. We fell in love when she was 5 weeks old. She is born in Minden. She is a Mini American Shepherd. She is Made in Nevada!
She is very loyal. Always guarding the entire home. She is also extremely friendly to all humans, kids and adult alike. She loves rubs on the belly and wants it frequently. She is our Alarm Clock and we have not set one for more than 2 years. She wakes up at 5:30Am every day. She loves hiking and she goes with her sisters 3 times a week on various trails. She loves playing in Snow and loves rolling in snow. She loves swimming in Lake Tahoe in Summer and we go there frequently to Skunk Harbor, and she is one of the best swimmers I have ever seen. She loves splashing in all kinds of waters even dirty ones! She loves retrieving a plastic bone she loves (made by Ruffwear) from water no matter how far you thrown it, she will get it. She is a "Rock Hopper' as well and loves jumping on all things. She is extremely affectionate and sensitive and reads you more that you know. She hates FIRE, or Fireplace. She loves Apples, Frozen Banana, and Carrot sticks. She is also a goof as much as she is an Angel, and we love her to the farthest Galaxy and back. She also loves Mt. Rose Summit hiking.