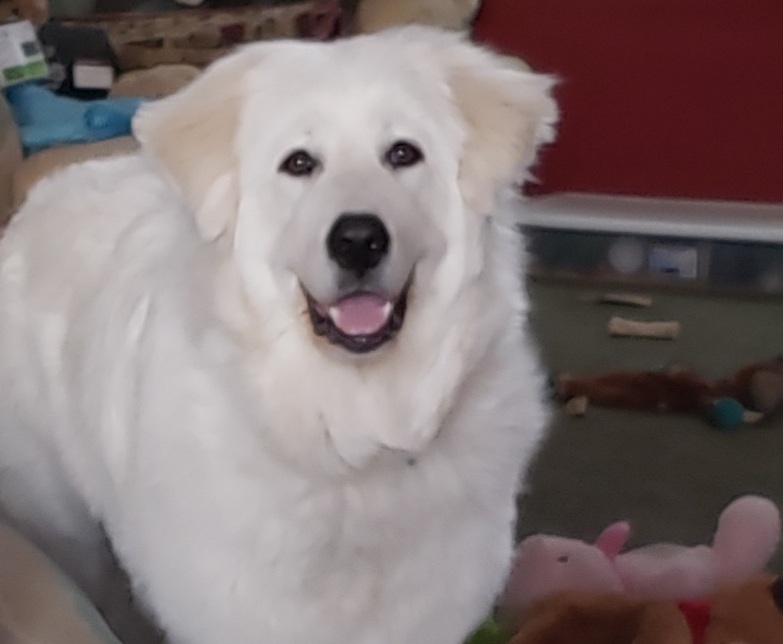 Waylon and Samantha Do their Homework and it shows! The two of them take an active part in every Activity in Zoom Room and are constantly progressing. It's so great to see an owner and their companion so in tuned to one another. Nothing stops this pair!
Favorite Toy: All of them, Mr Ribbit, Puppy, Gator, Bear, Squirrels in the tree trunk, Elephant, Kitty Kat, Bunnies, Lizard man, my donut, plastic bottle, the toy box itself good chewin there. Of course, my balls too!!
Favorite Treat: All bones and biscuits, Mom's frozen treats and Frosty Paws are the best. Oh! and my new treat Hot Dogs!! I will do just about anything for a Hot Dog!
Favorite Things to do: To see my neighbor friends, Hooman and Dogo's on my walks and the wild Mustangs that come by. I love to sneak into the bedroom and steal Dad's shoes and run, run, run so he can't catch me. I really enjoy spending time with my boys Grayson and Ryland.
Favorite activity at the Zoom Room: all of them. I enjoy learning and trying new activities, Playing Agility and trying new obstacles, But the best is coming to Play Group with my puppy friends.
Waylon's owner, Samantha, had this to say:
Waylon is such a sweet boy. He loves all people and animals. He has introduced me to many of the neighbors I have live around for over 20 years in the last 6 months we have had him. A simple 20 minute walk can take us an hour and a half because we have to stop and visit everyone. He enjoys so much coming to Zoom Room. His success in his training has been due to his willingness to learn and the positive influence of his wonderful trainers. He has gone from puppy class to Obedience 2, and Now Obedience 3 all since the beginning of July. Also, he has graduated onto Agility 2. We are so proud of his good work. He makes everyday an adventure with lots of love and smiles.!!