Honey
Honey was rescued from a friend, her estimated Birthday is 6/20/2013.  Honey and her brother Clifford have been coming to the Zoom Room since we opened in 2013!  Honey has attended Agility 1-4 and taking our Scent workshop! Honey is also famous for her adorable costumes and big personality at events and parties!
Honey is a picky eater on her own, but anytime you give brother Clifford something, she will happily chomp it down. Honey loves going to the Zoom Room and to the park!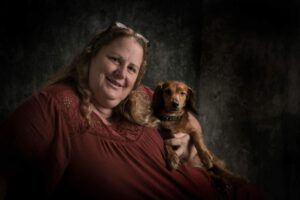 Two of our favorite stories about Honey:
1)When Honey first got to Faith, she was only 3 weeks old.  She could not stand, or walk, all the other puppies were running.  Also her left eye wouldn't open.  Faith decided to keep Honey because she was special needs.  The next day Honey starting running and Zooming around the place!
2) Faith's cat escaped the house one day, and it was no where to be found.  As Faith went to bed that night, Honey came running to Faith, then would run away, run back to Faith then run away.  So Faith decided to follow Honey, she had led Faith to the cat!