Snow was on born on May 29, 2015!  She lives at home with mom Cathryn, where she is gets pampered and adored!  Cathryn loves to give Snow chores to do around the house, so everyday Snow brings in the newspaper and does 5 mins of training for her Carrots!  Snow is often spotted around town wearing a cute bandana or a festive sweater!
Snow has been attending classes at the Zoom Room since she was 3 months old.  Snow started off in our program in Puppy Preschool then went on to complete our puppy obedience.  Once in our adult program she has made it to Obedience 3 and Agility 3! Snow and Cathryn can also be seen in Rally Obedience and Tricks classes too.  Snow's favorite thing to do on her way to class is to wear her goggles and stick her head out the window. Keep an eye out for her while on your way in!
Snow's favorite snacks are Chicken Strips, Bully Sticks and Carrots.
Snow's favorite place to go is: Zoom Room and to Grandma's house.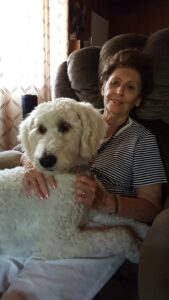 Snow's favorite past time is to splash in every puddle there is. She also loves, loves, loves people and kisses! Snow loves taking care of her grandma and kissing the mail lady. Snow tries to give as many kisses as she can in hopes of maybe some belly rubs!