Minnie
          
Minnie was rescued from a dog kennel in Whittier, "Seaaca."  She lives at home with owners, Bill and Heidi.  Minnie was picked up as a stray wandering the streets.  We went there and decided she was the one for Bill and Heidi. She looked so sad, her fur was all matted and overall she didn't look healthy.  Bill and Heidi took her to the Vet and found out she had kennel cough.  They nursed her back to health and now she is healthy as you can see for yourself in Agility class on Monday nights!
                            
Minnie has been coming to the Zoom Room since it opened!!  They came by before it was even opened and attended Agility classes right off the bat!  Minnie has taken All levels of Agility, Flyball, Urban Herding, Tricks and Obedience.  Currently Minnie has her Canine Good Citizen certification and is training up to be a Therapy dog with Pet Partners.  She will be testing the end of January. We know she will be the perfect Therapy dog and Zoom Room representative!
Minnie's favorite snacks are bully sticks and chicken breast strips.  And…. sometimes after class you can see me snatch a venison sausage when mom and dad aren't looking!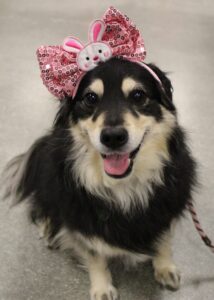 Minnie loves to go anywhere in the car or motor home.  When we say "Minnie, you wanna…" Then she runs for the door all ready to go.  Her favorite places are Averill Park and Feermin Park in San Pedro.  She likes to chase the squirrels, feral cats, and even the crows!
When Bill and Heidi first got Minnie, they were told that she was about a year and a half years old.  When they took a good look at her they realized she was still a puppy.  She did all the things puppies do.  She stole shoes, articles of clothing, anything that wasn't nailed down was buried in the backyard. Bill and Heidi still haven't found all the things she stole. Thankfully lil Minnie outgrew her puppy ways, she has grown to be such a delightful little dog.  She loves strangers, she is always wagging her tail and asking for pets.  She loves people!!