Winston
Celebrates his birthday on, April 30th, the day he was adopted by Andrew and Kelly Ann.  And later this month, Winston and his family will be welcoming a new baby!!  Winston is going to be the best Big Brother!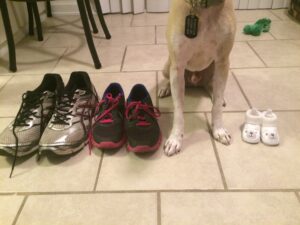 Winston has been attending classes and parties with us at the Zoom Room since Spring of 2016 and his list of accomplishments keep growing. He earned his Canine Good Citizen certification on February 9th 2017! He can be seen in Obedience 3, Rally Obedience and sometimes an Agility 3 class!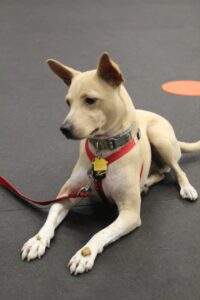 Winston LOVES going to his grandma's house in San Diego!  Grandma's house has a HUGE backyard and hill that he can can romp around on…. AND Grandma and Grandpa spoil him!!!
Winston also LOVES to play with his ball so much that one day he figured out he could sit at the top of the stairs, push his ball down the stairs, chase the ball, and run back up the stairs to push it again!