Puppy Socialization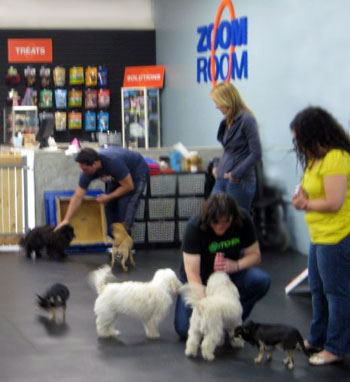 Early puppy socialization is critical. Research clearly demonstrates that puppies that grow up in isolation – both from other dogs as well as from a wide variety of humans – have a greater tendency to develop behavior problems later in life such as fear-based aggression.
But for many years, dog owners have been advised to keep puppies safe at home for the first four months of their lives, in order to avoid infectious diseases. This puts the owner of a new puppy in a terrible predicament: keep your dog at home and risk psychological and behavioral complications, or take your dog out into the world and risk disease. This gets to the very heart of what has traditionally been known as puppy wellness.
The American Veterinary Society of Animal Behavior has recently published their official position statement: The AVSAB "believes that it should be the standard of care for puppies to receive such socialization before they are fully vaccinated." See the full article here.
Puppy Wellness
The term puppy wellness is best defined as coming from a standpoint similar to what we nowadays call "holistic" medicine – an approach that embraces the entirety of an individual. Every puppy owner knows full well that their puppies have burgeoning personalities, and that as a responsible dog owner they must look after the well-being of their pet both physically and psychologically.
This isn't mere touchy-feely new age stuff. Dogs who develop serious behavior issues can do far more damage than a chewed up shoe. Puppies with severe anxiety can cause serious harm to themselves and to others. By focusing on puppy wellness, as opposed to any single measure of a puppy's health, responsible pet owners can make the most informed decision to nurture a happy, healthy, loving family dog.
Puppy Socialization Classes
The first question you might ask is why you should bring your young puppy to socialization classes when you can remember a vet once telling you how dangerous this is. The answer is that veterinary medicine is not static. The old-fashioned recommendations about keeping your puppy indoors for the first four months were based on the vaccines that were available back in the 1980s. Since then, vaccines have come a long way in their efficacy. Today's puppies can safely venture out to early puppy socialization classes, if conducted in a controlled, safe environment.
The critical window for developing a puppy's attitudes toward the world is between three weeks and twelve weeks. At that age, the impact of environmental experiences begins to diminish, with this sensitive window shutting for good at age eighteen weeks.
Vaccines used to be typically administered in three series: at ages eight weeks, twelve weeks, and the final round at sixteen weeks. In other words, if you waited until the last round of vaccines, at age sixteen weeks, and only then ventured out to puppy socialization classes, you would have missed that critical window of opportunity when these interactions actually have profound ramifications on your puppy's mental development.
However, with the new and improved vaccines (known as "high titer, low passage"), vaccinations are now recommended, according to the American Animal Health Association 2006 Vaccine Guidelines starting at six to eight weeks of age and then again three weeks later, and a final dose three weeks after that, at age twelve weeks or older.
Note: At the Zoom Room, our puppy socialization classes begin at age eight weeks, at which time you must show proof of your vaccinations. When your puppy receives his next round of vaccinations, you are required to bring in the updated records.
Training Your Puppy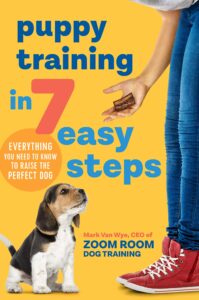 One resource we'd certainly recommend is our first book, Puppy Training in 7 Easy Steps: Everything You Need to Know to Raise the Perfect Dog.
Puppy training is certainly essential for all the obvious reasons: housebreaking your puppy, crate training your puppy, basic obedience – all of these are integral parts of any good puppy preschool or puppy kindergarten class.
But while you and your puppy learn these vital skills, something even more vital than training your puppy is taking place: because your puppy is in a group class, puppy socialization occurs at every moment. Remember that puppy socialization is more than just sniffing another dog's rear, or engaging in gentle play. Puppy socialization means meeting new people, experiencing the touch of a stranger's hand, smelling novel smells, hearing unfamiliar sounds, encountering new places – and – this is critical – doing so in a calm, caring atmosphere so that your puppy takes away from this experience the understanding that people, dogs, places are inherently good – that good things happen when humans and other dogs are near. That there really is no need to fear.
Our puppy training classes are conducted using 100% positive-reinforcement training methods. That means your puppy is receiving positive praise, petting, toys, love and – of course – lots of delicious treats. This cements the association between these early socialization experiences and the receiving of so much wonderful and lavish attention.
Puppy Socialization: A Risk/Reward Analysis
Robert K. Anderson, DVM, MPH, DACVPM, DACVB, is a charter diplomate of the American College of Veterinary Behaviorists, as well as professor emeritus and director of the Center to Study Human Animal Relationships and Environments and the Animal Behavior Service and Veterinary Public Health Programs at the University of Minnesota. He is the co-inventor of the Gentle Leader® head collar, a product we at the Zoom Room both carry and endorse. He has received Lifetime Achievement Awards from the ASPCA, American Humane Association, the Association of Veterinary Epidemiology and Preventative Medicine, and the Association of Pet Dog Trainers.
Dr. Anderson, who has practiced veterinary medicine for over six decades, has spent a great deal of his remarkable career studying the effects of puppy socialization, especially with regard to the very question we are examining – how the demonstrable rewards of early puppy socialization stack up against the risks of early exposure.
A few years ago, Dr. Anderson, armed with a lifetime of experience as well as a thorough familiarity of the improved vaccines of today, wrote an open letter to all of his veterinarian colleagues worldwide in which he hoped to finally put this question to rest.
His position is clear from the title of the open letter: Puppy Vaccination and Socialization Should Go Together.
The letter goes on to say:
New puppy owners… have a responsibility to assist in providing these learning/socialization experiences with other puppies/dogs, with children/adults and with various environmental situations during this optimal period from birth to 16 weeks…. [A puppy] socialization program should enroll puppies from 8 to 12 weeks of age as a key part of any preventive medicine program to improve the bond between pets and their people….

To take full advantage of this early special learning period, many veterinarians recommend that new owners take their puppies to puppy socialization classes, beginning at 8 to 9 weeks of age. At this age they should have (and can be required to have) received a minimum of their first series of vaccines for protection against infectious diseases…. In addition the owner and people offering puppy socialization should take precautions to have the environment and the participating puppies as free of natural exposure as possible by good hygiene and caring by careful instructors and owners….

Experience and epidemiologic data support the relative safety and lack of transmission of disease in these puppy socialization classes over the past 10 years in many parts of the United States. In fact; the risk of a dog dying because of infection with distemper or parvo disease is far less than the much higher risk of a dog dying (euthanasia) because of a behavior problem….

We need to recognize that this special sensitive period for learning is the best opportunity we have to influence behavior for dogs and the most important and longest lasting part of a total wellness plan.
Puppy Socializaton: Final Thoughts
We'd like to conclude by making it clear that not all forms of puppy socialization are created equal. It should be clear that early puppy socialization is critical for puppy wellness. However that does not mean you should take your puppy to the dog park, walks in the woods, or any other uncontrolled environment where the health status of the other dogs is not well known to you.
Our hope at the Zoom Room is that by providing our Puppy Preschool (early puppy socialization and puppy obedience training) in a safe, clean, immaculate, controlled, indoor environment, under the supervision of a professional dog trainer, and in the company of other puppy owners who, like you, have been required to demonstrate evidence of their puppy's vaccination records, we can play a small part in improving puppy wellness.
We would much rather meet you in Puppy Preschool than later on down the road in a series of private dog training classes engineered to correcting your dog's behavioral issues. We don't like seeing dogs with behavior problems. If you've adopted an adult rescue dog, this goes with the territory. But if you've newly acquired a puppy whose life is just starting out in your kind hands, we don't want you to have to agonize over a decision of whether or not to seek out early puppy socialization experiences.
Whether it's at the Zoom Room or another qualified training facility, we strongly encourage you to socialize your puppy safely starting after his or her first round of vaccines, around the age of eight weeks. Don't wait until he's four months old. There's a whole wonderful world out there that just can't wait to meet the little guy.