Skateboarding Dog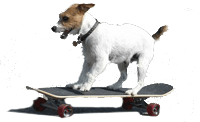 Zoom Room founder Jaime Van Wye was recently interviewed by the popular ilovedogs.com for an article about the incredibly explosive popularity of teaching a dog how to ride a skateboard.
For the last few years, YouTube visitors have been clamoring for the now famous video of Tillman the Bulldog on his skateboard. Starting about the same time as that video hit the internet airwaves, the Zoom Room began offering skateboard lessons as part of our Tricks Training curriculum.
Dog tricks at the Zoom Room run the gamut from sitting up and waving to dunking basketballs – but there's no resisting the delightful urge to transform your pet into a skateboarding dog!
In fact, one of our Zoom Room regulars, Mojo, became such an afficionado, that his owners went home and built him his own tricked out dog skateboard.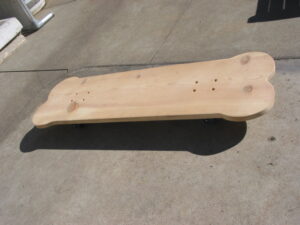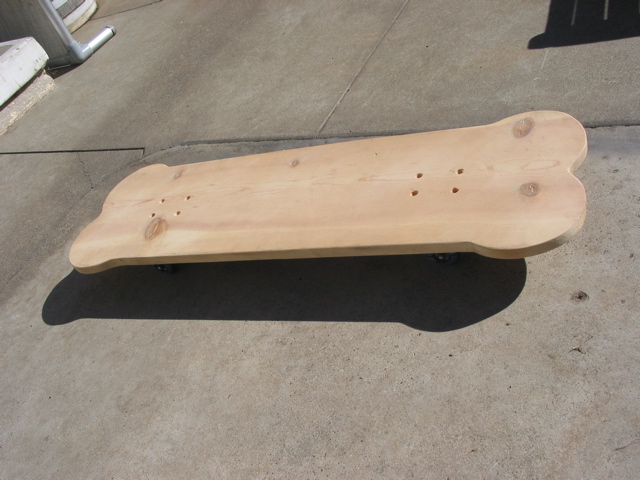 In case you missed the ilovedogs.com article, we'd love to share with you Jaime's commentary on skateboaring dogs:
Skateboarding isn't a natural behavior for dogs, but with a combination of conditioning and positive motivation you can absolutely teach your dog to skateboard. Training your dog to skateboard only takes a couple of weeks in which positive associations and familiarity ith the skateboard are gradually developed by using positive-reinforcement dog training techniques.
Skateboard Dogs – Best Breeds
Any dog can learn how to skateboard, but dogs with naturally high prey drives – the ones who love chasing balls, for example – tend to pick up skateboarding far more quickly.
Bulldogs, like Tillman, for example, have an especially high prey drive, and they like to manipulate things. They tend to like to move things around with their mouths. They bite it, move it with their feet, pick it up, flip it. This helps tremendously.
An additional benefit of dog skateboarding is that dogs who have a bad habit of chasing humans on skateboards learn to stop chasing the skaters and to start loving the skateboard itself. We teach them how to stop viewing the skateboard as something alarming, as something to be chased.
If you'd like to try your hand at teaching your dog to skateboard at home, make sure that you never try to force your dog onto the skateboard. Instead, patiently develop a real positive attitude toward the board through the use of positive praise and treats. Also, make sure to begin practicing on a rough surface, as opposed to a flat, slick one. A grassy backyard, for example, can be ideal as the skateboard won't too readily slip out from beneath your dog, and in case of a spill, the grass is nice and soft.