Jack Russell Dog Tricks
Meet Jesse…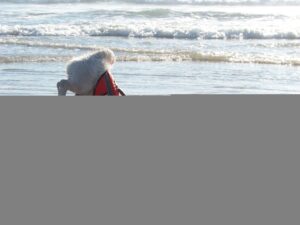 Jesse the Jack Russell Terrier began learning tricks through the motivation of tasty lunch meat. And when he was only nine weeks old, he taught himself how to sit up!
Jesse's owner, Heather, uses only positive reinforcement and clicker training to shape their dog tricks.
Jesse eventually started performing dog tricks at talent shows, birthday parties, and even a Halloween party for senior citizens.
Through the power of positive training, Jesse has passed the Canine Good Citizen Test, and the Therapy Dog International Test. Jesse absolutely loves rubber toys, and can de-squeak a toy in less than 5 minutes, earning himself the nickname Squeaker.
Heather and Jesse also enjoy other fun activities such as tree agility, frisbee, lure coursing, canine freestyle, and going to photo shoots.
Here's what Heather has to say about Jesse:
I got Jesse on my 16th birthday after waiting for over 4 years to get a Jack Russell of my very own. Between that time I did as much research, and read as many books about these wonderful little dogs that I could get my hands on. I first met Jesse when he was 3 weeks old, and visited him every week until he could come home with me at 8 weeks old. From the day he came home we were inseparable!! Jesse goes practically everywhere with me, and loves making people smile. Jesse just loves to entertain people, and is such a ham when performing his tricks. It is so fun seeing Jesse thinking while learning, and the smile on his face when he is trying to figure out how to get me to click is priceless!!
UPDATE: Jesse is the Grand Prize Winner of the America's Best Dog Trick Contest! Jesse and Heather won $1,000 from the Zoom Room and a suite of amazing dog toys from West Paw Design. Here's their winning entry…