Good Day L.A.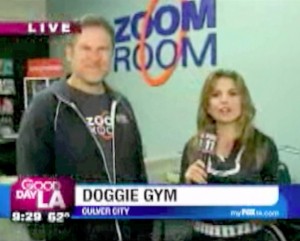 On June 14, Fox 11's Good Day L.A. visited the Zoom Room in Culver City to take a look at dog agility training in our "Doggie Gym."
We broadcast two live segments featuring dog agility and even a bit of improvised skateboarding.
In the 9 o'clock hour, our own Komondor, Clyde, was joined by wonderful client dogs Drover, Amber, Zingo and Rupert.
In the 10 o'clock hour we had a visit from Chula, an adorable 14-week-old rescue Chihuahua who performed admirably, showing off her Puppy Agility skills.
It was a great opportunity to get the word out about the Zoom Room, our exclusive use of positive dog training, and the benefits of dog (and puppy!) agility for all dogs, big and small, regardless of breed.
Please forgive the video quality and just enjoy the dogs!