Best Pet Boutique in L.A.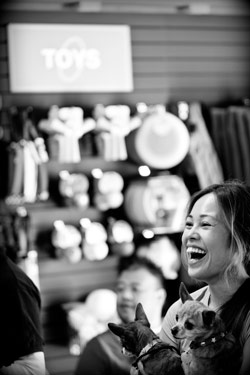 The votes are in, and Zoom Room has been voted Best Pet Boutique in Los Angeles. The only L.A. pet business to win prizes in two categories, we also won 2nd place in Best Dog Training.
Voting was conducted throughout the first few months of 2011 by CityVoter.
L.A. has a reputation for pampering dogs with limitless luxury. And it's true there's no shortage of places to buy decadent duds for your dog in Los Angeles – just not at the Zoom Room.
We think this win speaks volumes about the true nature of L.A. dog owners. Our product selection is markedly different: we focus on solution-oriented training products, including many items that you can't find anywhere else in the country. We also emphasize products that are eco-friendly and made here in the U.S., at exceptionally reasonable prices.
We carry raw and organic dog food, all-natural treats, beautiful leather leashes handmade for us by Amish craftsmen, bait bags made from recycled hiking gear, industrially durable toys and puzzles, and even an exclusive line of Kosher dog treats.
Most people know the Zoom Room for our indoor Agility Training, Open Gym, and our dog birthday parties and other socialization events. We're delighted to receive recognition for our healthful, helpful dog food, treats and other offerings, too!
Our other boast is product knowledge. Choosing the right dog food, supplements, or other training aids can be a challenge for many dog owners. At the Zoom Room, our staff are thoroughly experienced with all product lines, and able to make specific recommendations regarding nutritional content – or helping you fit a harness on your dog, right there on the spot.
Please bring in your dog to shop for what he needs or craves!
Thank you for your votes!