Best Friends Animal Society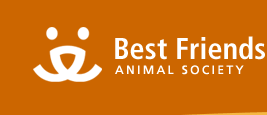 The Best Friends Animal Society of California features an article about the Zoom Room's commitment to supporting pet adoptions, rescue organizations and animal welfare.
Best Friends Animal Society is guided by a simple philosophy: kindness to animals builds a better world for all of us. Best Friends brings together an ever-growing grassroots network of concerned and motivated animal lovers. They maintain an animal sanctuary and support a wide range of adoption and fund-raising initiatives. Learn more about how you can get involved with Best Friends.
The article includes an exploration of the Zoom Room's past, present and future. Author Roni Raczkowski also interviews founder Jaime Van Wye, who says this about our mission:
"The Zoom Room, as a dedicated indoor dog training facility, carries certain advantages, opportunities and – in our mind – responsibilities to the community. We regularly make the facility available for charitable fund-raisers for rescue organizations, and as a venue for dog adoptions and microchipping clinics. Every month we donate both goods and training services to local shelters or rescue groups, and for the holidays we did a huge food drive and blanket drive. We also use both our training centers and our online presence to educate dog owners, with seminars in pet safety and first aid, how to introduce a dog to a new baby, and other topics that foster a happier family life with one's dog.

But to be perfectly honest, I think the single greatest contribution we can make to the community is not the direct partnerships with these amazing organizations, but rather our everyday commitment to promoting responsible pet ownership by providing dog owners the tools to deepen the bonds of communication with their dogs. Dogs frequently enter shelters due to behavior issues, and by providing quality positive dog training we can do our part to foster a world in which dogs are better trained, leading happier lives at home with their families, and thus reducing the number of dogs entering shelters."