Join us on April 29th and 30th!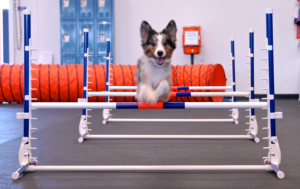 What: $5 Intro to Agility or Tricks
When: April 29th and April 30th
RSVP for Agility or Tricks
Where:
Zoom Room Longwood
1648 N Ronald Reagan Blvd.
Longwood, FL 32750
$5 Agility Classes and $5 Tricks Classes
To celebrate our Grand Opening, on Saturday and Sunday, we are offering a few Intro to Agility or Intro to Tricks classes for only $5 (single classes are normally $54!) Space is extremely limited, so if you'd like to sign up for a class, click below to choose a time and purchase. Two humans per dog allowed inside our training gym (but there's plenty of room for others to watch from the lobby!).  Click here to purchase and reserve your dog's spot.