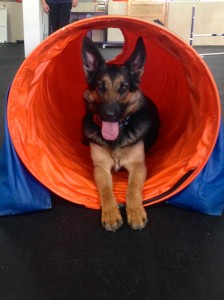 Orange County dogs and dog lovers head over to the Zoom Room Huntington Beach Grand Opening Celebration on Saturday August 24th and Sunday August 25th 11am – 5pm to celebrate the social aspect of dog ownership!
The weekend's events will include $5 Intro to Agility classes at 11am, noon, and 1pm on both Saturday and Sunday.  Come and enjoy Raffle Prizes hourly from 11am-5pm, Free Doggy Donuts, and Tricks Contest Sunday at 4pm!  All proceeds from raffle prizes and $5 Agility Classes will benefit the OCSPCA.
Raffle Prizes Hourly on Saturday and Sunday 11am – 5pm.
Donations of $5 for 3 raffle tickets and $10 for 8.  Choose raffle prizes you most want to win.  Drop multiple tickets to increase your chances!  Enjoy the day with your dog and try to win something for yourself!  Prizes include gift packages from Lazy Dog Cafe, Waterfront Resort, Nupro, Dancing Party Animals, and Beach Hut Deli!  All proceeds benefit the OCSPCA.
Zoom Room Huntington Beach is located on Beach Blvd. in the newly renovated Beach Garfield Shopping Center.  Our address is 19069 Beach Blvd.