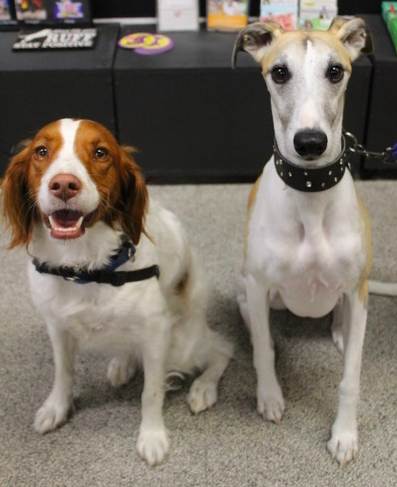 Bogart was born on May 7th, 2015, Laura and Bob got Bogart from Long Beach. Bogart has been coming to the Zoom Room since August 2015. He has taken Obedience 2 and 3, Agility 1, 2, 3 and 4, Tricks class and Competed in our Agility League.
Princess Arya of Langenbeck was born on September 16th, 2016. Laura and Bob's son, Tim got Arya from Apple Valley. When Arya is not with Tim, she stays with Laura, Bogart and Bob! Arya started with us since she was in puppy Preschool, 2016. Arya and Laura have taken Puppy Preschool, Puppy Obedience, Obedience 1, 2, 3, Agility 1, 2, 3, 4, Flyball 1 and 2, Rally, Tricks, Loose Leash workshop and Agility League!
Favorite Treat: Bogart: Carrots and Apples Arya: Chicken and Bacon
Favorite Places to go: Bogart: Mommy's lap, the couch, in his crate, where ever mom is. Arya: Beach, beach hut deli, fairview park and anywhere new!
Favorite activity at the Zoom Room: Bogart: Doing anything with Mom! Arya: trying out all the new classes and getting the yummy treats!!
Bogart and Arya's owner, Laura, Bob and Tim, had this to say:
Arya is the guard dog. She sits in the window watching for zombies. When she barks, Bogart barks even if she doesn't know why.