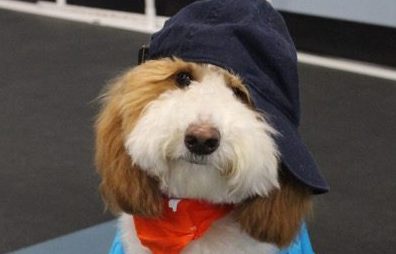 Leo was born on 2/23/2019 in Caledonia, Chicago! Leo lives at home with Mom, Monica, Dad and two human siblings! Leo is also called "Lilo" or "Lolo" around the house.
Leo and Monica have been attending classes at the Zoom Room since 8/1/2019. We met them during an evaluation and knew they would fit right in from the moment we met them! Leo has successfully completed Agility 1, 2 and 3. Obedience 2, Rally 1, Therapy dog workshop and has earned his AKC Canine Good Citizen certificate with us. Leo and Monica can now be spotted in Agility 4, Rally 2, Tricks 1 or Obedience 3.
Favorite Treat: Ham and Chicken
Favorite Places to go: The beach and the Zoom Room!
Favorite activity at the Zoom Room: Rally 2 and Agility 4 classes!
Leo's owner, Monica, had this to say:
Our family went to San Diego for a few days, and we were staying at the bay. While we were looking out at the water, Leo started running around the sand at full speed, and we were all trying to catch him. He saw a bird a few feet into the water and took a big jump, not realizing he hadn't swum before and that the water was freezing. He got out very quickly and rolled in the sand… mom wasn't too happy to clean him.