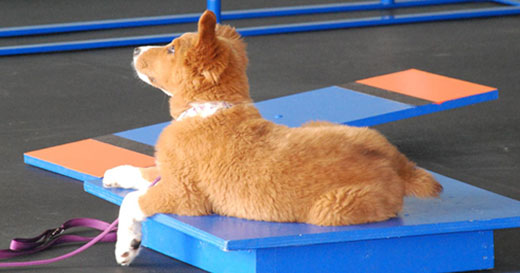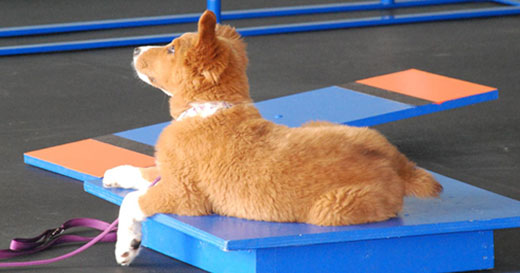 Campbell's Best Puppy Training Gym
Start smart with early socialization and our $45 Puppy Training Special
SAFE. POSITIVE. IMMACULATE. Enjoy two puppy classes plus a half-hour private evaluation for only $45. Or two private puppy training sessions, also only $45.
Please take a moment to unlock
this deal. We never share your info.

Early and SAFE socialization is vital to your puppy's well-being. In our climate-controlled, indoor, highly sanitized, safe and controlled environment, you and your puppy can enjoy Puppy Preschool, Puppy Obedience and Puppy Agility classes. Yes – even puppies can enjoy agility! Our custom equipment adjusts to a puppy's size, and our training focuses on communication, balance and coordination – nothing that stresses growing bones and joints.
We have small group classes as well as private one-on-one training, and we're open evenings and weekends to accommodate your busy schedule. We use only positive dog training methods in all of our classes.
With FIVE STARS ON YELP, we're the #1 dog gym in Campbell, and we're dedicated to everything awesome for dogs and their owners. You can't drop off your dog. We want you both to come, stay, learn, play.
"I would give six stars. This is the newest most clever idea for dogs and their people." – Yelp.com
Our goal is to fill the world with happy, tired dogs enjoying an exceptional quality of life as loving companions. And to provide Campbell with a positive, social atmosphere to meet like-minded dog lovers.
And it's hard to resist our pro shop – full of all the best stuff your puppy needs! House-training and crate-training gear, all-natural treats, irresistible toys, and everything else a puppy could desire.