Meet Our New(ish) Staff Member

For the past several months, you may noticed a new face lovingly greeting you and your pups at the front desk.  This smiling, cheery person is Kendra, our new office manager.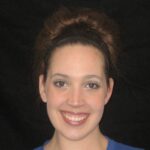 Kendra has had a varied career up to now, giving her a wide breadth of knowledge that makes her a perfect addition to our family.
Prior to joining Zoom Room Culver City, Kendra worked as a scrub technician (almost identical to a surgical assistant), and as a receptionist and office manager at a veterinarian office and a dental office.
Since May, Kendra has been working hard for us and for you.  So, if you need anything, feel free to ask her and be sure to say hi when you see her next!