Meet Sophie, Our Newest Employee

You might see a happy blonde woman sitting behind the desk and greeting you with a smile the next time you visit Zoom Room Culver City.  Just who is this helpful lady?
She is Sophie, our newest employee.   She is also a dog-lover and teacher, and so much more.
 
Born in Paris, France, she still speaks fluent French.  Since coming to the US, she has lived a life dedicated to helping dogs and people alike.  
 
Sophie was a lieutenant lifeguard for the City of Los Angeles, and she spent some time as a firefighter as well.  She is currently a high school health teacher and a varsity swim coach.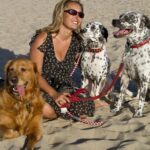 But her first love is dogs.  Sophie volunteered at Save the Dalmatians Rescue.  She opened her home and heart to foster puppies, making them healthy and training them so they were more adoptable.  She also volunteered for K9 Rescue, an organization that brings shelter dogs to schools to give at-risk youths an opportunity to train and bond with the animals.  The dogs and children benefit immensely from this program and Sophie learned a lot from being a part of it.
 
We are thrilled that Sophie has made some time to join our family!  We love her and you will too!