Watch Your Dogs Raise the Woof!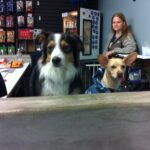 Come honor National 
"Take Your Dog to Work Day"
 with us.  First celebrated in 1999, "Take Your Dog To Work Day" was created to celebrate the great companions dogs make and to encourage their adoption from humane societies, animal shelters, and breed rescue clubs.
This annual event asks pet lovers to celebrate the human-canine bond and promote pet adoption by encouraging employers to open their workplace to employees' pets.
So, whether you bring your four-legged friend to work or not, you are encouraged to bring him to Zoom Room Culver City on Sunday, June 24, for fun and socialization.  The festivities run from 6 to 8 pm.
We will have yappetizers for canines and their people, including fresh-baked doggy donuts,  a DJ, virgin Margaritas, and raffles.  Plus, we will put your dog to work by having a tricks contest! Bring your best trick and win a prize!
Run your dog through, over, and on top of our Agility equipment and make new friends.  All this fun is only $10/per dog (people are free).  And the best part is that all the proceeds will go directly to spcaLA!  Come join the party and help a great organization at the same time!