From Terrible to Terrific, It's Zou Zou!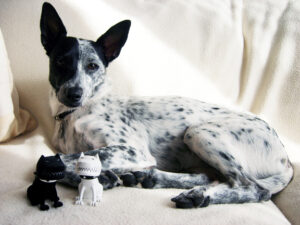 Zou Zou was a lost, scared puppy.  She was found running in and out of traffic in a neighborhood near downtown Los Angeles about five years ago.  After a 45 minute chase, she was finally captured.  Her rescuer posted "found dog" flyers all over the area and held on to her for a few days waiting for her owner to claim her.   Her rescuer quickly realized that the little dog didn't have a home to return to and asked her friend, Robin, to take her, explaining that this would be Robin's "dream dog."
When Robin first met Zou Zou she said the dog was "terrified, untrained, and flagrantly unhousebroken."  Zou Zou was, bluntly, a mess.  She was covered in fleas and had never seen the inside of a house before.  She was alternately fearful and agressive.  She was skittish and extremely difficult to walk.  She voraciously eviscerated every toy she was given and quickly performed "squeaker-ectomies with surgical precision."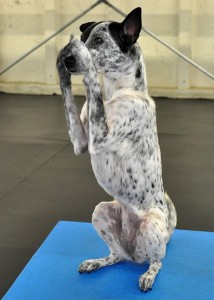 Zou Zou may have been a terror on four paws when she entered Robin's house.  But she was not dumb.  She realized quickly what a good situation she had found herself in and proved to be a quick learner.  Robin watched Zou Zou transform into a well behaved dog with an aptitude for tricks.  Zou Zou was eager to learn and Robin found that training her was a source of endless amusement.
Zou Zou is not too fond of dog food but loves treats of all kinds.  She also still adores squeaky toys, but now she lets them live a long, squeaky life.  Zou Zou has passed her Canine Good Citizen test and visits hospitals and pre-schools as a certified therapy dog.    She also wins tricks competitions!
Zou Zou and Robin attended Strut Your Mutt recently, where Zou Zou demonstrated her agility skills on the Zoom Room Culver City equipment.  While there, she received some attention and affection from the one and only animal welfare activist Jane Goodall.
Zou Zou's amazing growth is a testament to Robin's love and patience.  Congratulations on being our Member of the Month.  We can't wait to see you enjoying your free five-pack of Open Gym!
Do you have a Zou Zou in the making? Start now and be able to show off your dog's skills in just a few weeks!