Santa Delivered Pawsitive Fun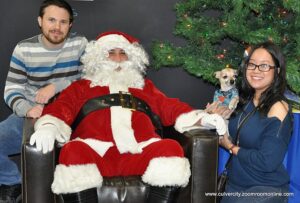 More than 30 pooches and their parents came to the Zoom Room Culver City last weekend to celebrate the holidays.  Santa Paws posed for pictures while his little helper, Joseph, decorated and handed out Christmas cookies to treat-loving pups.
Christmas music wafted through the building while several hounds, some dressed in their finest Christmas togs, played on our agility equipment.  A few lucky folks won Ed Hardy dog dishes and stuffed Christmas toys in our raffle.  And each dog went home with his own Christmas stocking stuffed with treats!