Playful Pittie Pebbles is Picture Perfect

November's dog of the month, Pebbles, is a born beach dog. Molly, her mother, found Pebbles on the bleachers at Venice Beach. She was the last girl of a litter of Blue American Pit Bull Terrier puppies for sale by a man on the boardwalk. There was no turning away from Pebbles' sweet face, so Molly decided to take home the little eight-week old then and there. The crowd of children who had collected to coo at the pups were sad to see their favorite one go; Molly knew she made the right pick.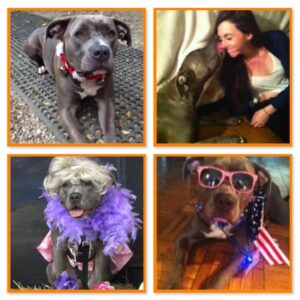 Molly and Pebbles immediately enrolled into puppy class at Petco where, they met trainer Stephanie Lauter. They loved Stephanie so much that they followed her to Zoom Room.
Now, two and a quarter years later, Pebbles and Molly are a staple at the Zoom Room, excelling at every workshop and class they take, and making fashion statements at parties in their elaborate costumes.
Because Pebbles is a working breed, Molly makes sure to present her with many activities.
She absolutely loves to hike, run and swim, and jumps for joy when she gets to take agility classes.
But, as Molly puts it, "her absolute favorite activity is playing with other dogs." Despite her love for other dogs, it doesn't hold a candle to the power of Pebbles' beach heritage.
Knowing Pebbles' enjoyment of swimming, Molly decided to take Pebbles down to the dog beach. After a long car ride, Pebbles was ready to run. Upon seeing all the dogs and owners lounging on the beach, Molly was sure that her bundle of love would go stir up some playtime. However, much to the surprise of Pebbles' family, she took off towards the ocean and refused to get out of the water, even with waves crashing over her head. If it weren't for the leash, Molly suspects Pebbles would have swum off into the horizon.
Pebbles leads a busy life, but in the few moments where she's at home, she loves snuggling with her family and her favorite toy (a stuffed bunny), and she always enjoys getting her favorite treat: bacon!
Congratulations, Pebbles! We are so happy to have you be part of the Zoom Room family!