Husky Mix is Worth Every Penny

Meet four-year-old Penny, Culver City's December Dog of the Month!
After this beautiful Husky mix was rescued from the South LA Animal Shelter 10 months ago, her new family discovered that Penny had some trust issues that needed working on.
Being the dedicated adoptive family that they are, Penny and the Peykovs worked on strengthening their bond through activities like hiking and positive based training with lots of treats (hot dogs are her favorite!).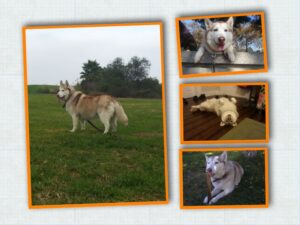 After five months, Penny came to Zoom Room and was immediately passed into Agility 1.
After only two sessions, the nimble pup graduated into Agility 2.  With every class, Penny's family watches her confidence grow as she comes out of her shell a little more each time.
When Penny isn't Zooming or out exploring the trails, she enjoys relaxing at home and chewing a treat-filled Kong.  As her mom, Mackenzie, writes, Penny, "is a very happy dog who loves her new life!"
Congratulations Penny, and happy holidays to the entire Peykov family!