Jamie Helps Her Dads See the Light
One-Eyed, Four-Legged Fashion Diva is May's M.O.M.
May's Member of the Month is Jamie, a seven-year-old Chocolate Labrador mix who was rescued from the West LA Animal Shelter in August of 2005.  She was about one year old and was very shy and anxious.   Jamie's dad, Kent, noticed her on her first day at the shelter.  He was immediately drawn to her and visited her every day for four days until she became available for adoption.   Kent said he will never forget the sound of her bark as he left each day — Jamie barked louder than all the other dogs as he walked out the door.
Jamie has been blind in her left eye since before she was adopted, but no one would guess that she is vision impaired, even Jamie.  She is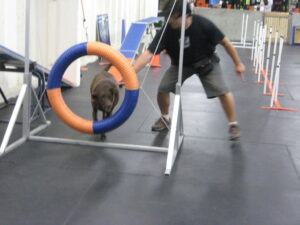 an avid hiker who loves exploring the scenic trails around Santa Monica where she lives.  She is also an amazing agility dog.  Jamie started taking Agility classes at Zoom Room Culver City in April of 2009 and has completed all three Agility levels.  She now enjoys going to the Thursday Night League for both its competitive environment and its wonderful camaraderie.  It is definitely the highlight of her week!
Although Jamie loves to hike and run agility courses, she isn't much of a "walk around the block" type of dog.  Her motto is, "Why walk when you can drive?"   Yes, Kent admits, Jamie is spoiled.
Jamie is best known for being a fashion diva.  Everyone who knows her can't wait to see what new fun collar she will be sporting next.  She has over 150 custom-made collars (made by Kent).   She also has three custom-made beds, five doggie blankets, a monogrammed car seat cover, a deluxe Santa suit and a custom-made fleece snuggie.  She also loves to be surrounded by pillows.
Kent says that Jamie has truly changed the lives her dads, Kent and Michael.  Congratulations, Jamie!  We can't wait to see your custom-made tiara!