The Story of Maximus
Max, a three-year-old Jack Russell Terrier, was sweet, affectionate, and athletic.  He was living at Rescue Org when a big-hearted lady fell in love with him at first sight.  The rescue warned her that Max was difficult — he had been returned three times for aggression — but this lady had a lot of experience with Jack Russell Terriers and believed that with her training, patience, and love, Max would be able to fit into her life.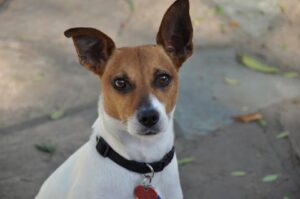 Once settled in his new home, however, Max began to display food aggression.  Undaunted, his new family pressed on, working to help Max overcome his issues, but Max bit his new mom and dad, as well as an unfortunate dinner guest.  Realizing that they had a dog with a bigger problem, they turned to a boot camp for help.  Max returned from the boot camp worse than when he left, and his aggression continued.  Months of behavior modification did not alleviate the aggression, and so, with a heavy heart, his family began to look for other options.  That's when a friend read about Steve Markwell and the Olympic Animal Sanctuary in the Los Angeles Times.
After reading about the sanctuary, Max's family emailed Steve Markwell as soon as they could.  Within 24 hours, Steve agreed to take Max.  Today, Max is living happily at the Olympic Animal Sanctuary.
Olympic Animal Sanctuary Charity Event

Max isn't the only dog to find himself in this situation.  Fortunately, Steve Markwell has made it his life's work to provide a sanctuary for Max and his four-legged friends.  Steve runs his nonprofit rescue in Forks, Wa.  He takes in former fighting dogs, street dogs, feral dogs and wolf-dog and coyote-dog hybrids that have bitten people or killed animals.  The dogs learn how to get along with each other and people and live in peace and happiness on his property.  They also help keep the vampires away ("Twilight," anyone?)
Join us on September 25 from 11 am – 4 pm for a block party featuring a lecture by Steve at 2 pm, dog adoptions, and a dog/owner look-alike contest.  We will also have food, music, a raffle, and a silent auction.  The event is only $10 per person, free for kids and dogs.  All proceeds are going to the Olympic Animal Sanctuary.  Come join the fun and make a difference.  For more information about the sanctuary, visit the website.